Asia Facific IBA2019 – AAPG Semi Finals 1st Place Winner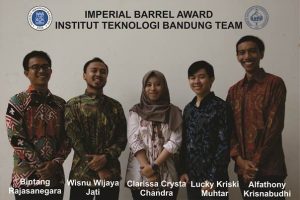 Dear IBA Team Leader, Asia Pasific IBA semi-final
The last few months must have been exciting for all the participating school. We hope you have all benefitted from this program.
We completed our IBA2019 competition on Thursday 7 March, with 11 participating schools. The judges reviewer the live presentations as well as the recordings and have ultimately selected a Winner. There were some very close scores. Teams were evaluated on multiple aspects including integrated petroleum systems analysis, basic technical interpretations, regional context, team work, etc. We would like to now to congratulate the Winner : INSTITUT TECHNOLOGY BANDUNG from Indonesia for coming out as the best team overall. They will now represent the Asia Pacific Region at the IBA finals in San Antonio, Texas, USA, on Saturday 18 May 2019. Well, done, Institute Technology Bandung; 2nd time in a row! Best of luck! AAPG HQ staff will be in touch with you directly.
WINNER
Advisor : Prof. Ir. Benyamin Sapiie, Ph.D.
https://iba.aapg.org/competition/region/asiapacific
Member :
Bintang Rajasanegara (NIM 22018002)
Wisnu Wijaya Jati (NIM 22017301)
Clarissa Crysta Chandra (NIM 22017302)
Lucky Kriski Muhtar
Alfathony Krisnabudhi (NIM 22017308)