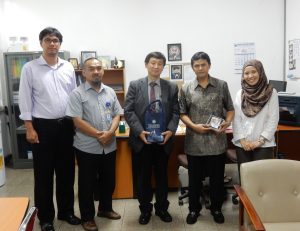 fitb.itb.ac.id; Rabu 22 Maret 2017, Kantor Fakultas Ilmu dan Teknologi Kebumian FITB-ITB mendapat kunjungan dari Prof. Yoshiyuki Kakehi, MD., Ph.D. Direktor, Institute of Education, Research and Regional Coorporation for Crisis Management Shikoku (IESCMS) of Kagawa University, Japan. Beliau diterima langsung oleh Dekan FITB-ITB, Bapak. Ir. Benyamin Sapiie, Ph.D. didampingi oleh Kaprodi S1 Teknik Geodesi dan Geomatika Bapak. Dr.Ir. Agustinus Bambang Setyadji.
Kedatangan yang bersangkutan dengan maksud untuk mejajaki kerjasama dan membangun hubungan yang lebih erat antar dua lembaga dalam hal ini FITB-ITB dengan IESCMS Jepang.
Bidang kerjasama yang dijajaki adalah :
Pertukaran Dosen, staf dan mahasiswa pasca-doctoral
Kegiatan penelitian bersama dan publikasi
Pendidikan bersama / program penelitian / simposiun
Program akademik jangka pendek
pertukaran bahan pengajaran dan informasi lainya.